Access My Account
Initial Login
You will need to log in to your account using your library card number and PIN. (Your PIN is a four-digit number you selected when you applied for your library card.)
My Record
My Record

This page has basic membership Information such as the date you received your library card.

Messages

This feature is a way staff can communicate with you. An example might be if there is an issue with an interlibrary loan request.

Contact Information and Preferences

Your current contact information is listed here. If you need to update this information, providing a new phone number or email address for instance, you have the option to do that on this page.

Reading History

Checking this box will enable your Reading History. After agreeing to a disclaimer regarding the use of this feature, your Reading History will track the items that you have checked out, from this point forward (up to 500 items). You may sort this list, by title, checkout date, etc., but you may not delete items from the list. You may either keep all of the titles on the list or stop the list which will delete the list permanently.

Items Out

This page lists the items that are currently checked out on your account. It also lists their due dates, number of remaining renewals, and other information.

Renew Selected Items/Renew All Items

Checking these boxes will allow you to renew items, to, essentially, check these materials out again. If there is no box to check by an item, that item may not be renewed at this time. Most items may be renewed as many as three times unless someone else places a hold on it.

After you have renewed your items, please review the due dates on your items out to ensure that all of your intended items were renewed.

Requests

This page lists the status of your hold requests.

HELD --If the status of an item is "Held", the item is ready to be picked up at your convenience. It will state how many more days your item will be held for you.

CANCELLED –If an item that was "Held" is not picked up within seven days, it will no longer be held for you and its status will change to "Cancelled". (You can click on the title of this cancelled hold and then submit a request for it again if you are still interested in it.)

PENDING –This item should be on the shelf and available for you soon. Once library staff sets it aside for you, its status will change to "Held".

ACTIVE –This item is currently unavailable, as it is most likely checked out by another patron. Your Hold Position will tell you what number you are on the list. A Hold Position of "1" means that you are next. The status will change to "Held" when it is returned and now ready for you.

INACTIVE –This status can result from two different situations.

Suspended Holds –A Hold will show as "Inactive" if you chose to suspend it for some reason. When you choose to suspend a Hold, you choose to have a book available for you at a later date, rather than immediately. A good example of when to use this feature is if you are away from home for a number of months and want your items to be ready for you upon your return.

Interlibrary Loans –When we have to search for items from other libraries outside of our South Central Library System your hold will have a status of "Inactive".

Fines and Fees

This page details any current charges on your account.

Saved Searches

After agreeing to a disclaimer regarding the use of this feature, this feature puts our search engines to work for you! When you search for a certain topic, for this example, Wisconsin Travel, you will get a list of items that we currently have that match the search of "Wisconsin Travel". When you "save your search" you will get an email update from us as to what new items we have added to our collections that also fit the search that you saved. You can save your search and get a weekly or monthly email update with all of the new Wisconsin Travel books that we have added to our collections.

When you do a search in our catalog, simply click the button toward the top left of the page to save your search. When you receive your weekly/monthly results, with just another click or two you can submit a request for the item to have it placed on hold for you. You could also add that item to a list to look at later.

Add to List –Whenever you search for an item, you have the option to add that item to a list to look at later. An example of how this could be helpful is if you were working on a research project and doing several searches with many different results. Rather than slowing down your searching as you look at each book in great detail, you could create a list to add the books to that might be helpful to look at later. You can create any number of lists that might be helpful, like "Books to Read This Summer" or "Books That I Can Recommend When People Ask Me to Recommend a Book".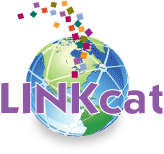 Download the LINKcat Mobile App to easily access our catalog and your account!