Borrow Materials
To borrow most materials from the library, you simply need a library card. To borrow materials using our Anytime e-Resources, like Hoopla Digital or Overdrive/Libby among others, you would also need your PIN (a four digit number you selected when you applied for your library card) in addition to your library card. The Anytime e-Resources can be found under either the Adults or Youth tabs on our website.
Our most popular place to borrow materials is at the Checkout Desk in the Library. We also have Self-Checkout available for you, adjacent to the Checkout Desk. If you have items on hold and have been notified that they are ready to be picked up, you can borrow them at our drive thru Holds Pickup Window. This window is located in our back parking lot behind the library, which can be accessed from Cedar Avenue. There is also a book return there for your convenience.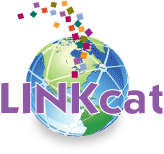 Download the LINKcat Mobile App to easily access our catalog and your account!