Computer Access
We have over 20 desktop computers and 10 wireless laptop computers for your use while in the library. You may log into the desktop computers as a patron with your library card or as a guest with a pass available at the Information Desks. You will need a picture ID to check out a laptop for IN-LIBRARY use only. Our computers have Microsoft Office Suite installed. For security reasons, our computers are frozen and restore to default settings on restarts. Laptops should be shut down after use to ensure privacy. Please come prepared to "save" your document on to your own flash drive or plan to email it to yourself so your work will not beaccidently lost. You may print from our computers, pay for and pick up your documents at the Check-Out Desk on First Floor. Black & White printing is 15 cents per page and color printing is 75 cents per page.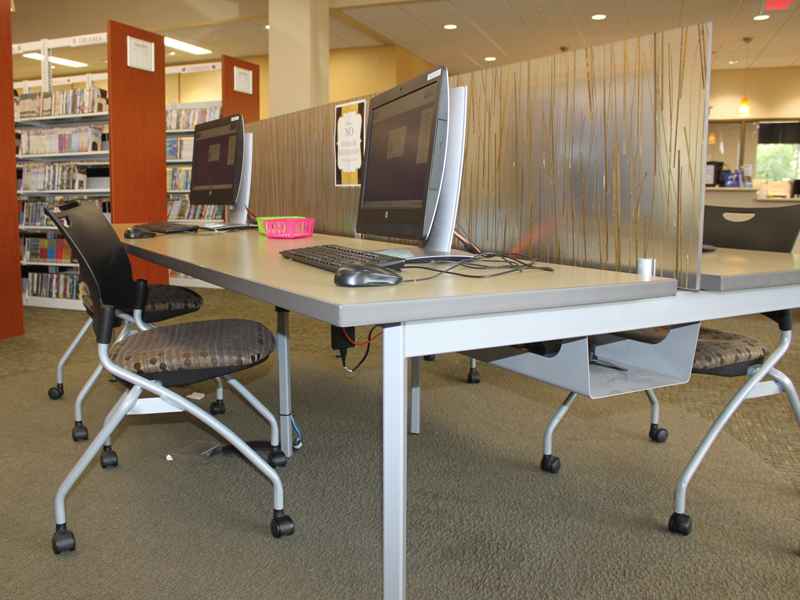 You are always encouraged to bring in your own device, use our wireless signal, work, and print remotely while again retrieving your work at our Check-Out Desk. To access our wireless service, go to your device's "settings" to choose one of our four ERMPL Wi-Fi networks. If your device does not automatically offer our "Terms of Service" webpage for you to accept the user's agreement, please open an internet browser and type in our address: www.marshfieldlibrary.org to agree to and accept our terms. If the terms do not automatically appear, try a different internet browser.
Mobile Printing Service: Print from anywhere. Pick up at the library.
With our Mobile Print Service, you may use your personal computer or mobile device to print to the library's printer from anywhere. Simply submit documents for printing and come to the library to pay for and pick up your documents.
How to print from your wireless device within the library or from home:
Begin by visiting: http://www.printeron.net/mpl/maple
The printer "Black and White" will be selected.
Enter your email address as requested.
Browse your computer to find and select the files you wish to print or enter the URL (web address) of the web page you wish to print. Please be aware that a URL will print the entire webpage, that could be many actual printed pages. Do a print preview to see how many pages the URL will print.

*

Click on the arrow icon at the lower right to get the "Processing your request" dialog box. Wait while your pages are counted. Note the pricing information of $0.15 per page and the total number of pages in the job. Approve the job by clicking the green print icon.
Wait for message "Your request has been processed."
Use the back arrow button next to the green print icon to print additional documents if desired.
To print an email and its attachments, forward the email to mpl-maple-bw@printspots.com
* If you only wish to print a selection of the webpage, you can do this in one of the following ways:
You may highlight, copy, paste, and save your selection into a word processing program (Word, Word Pad, Notes) and then edit that document to continue.
Or you may highlight, copy, and paste your selection into an email and then send your email to mpl-maple-bw@printspots.com.


You will receive a confirmation email telling the number of pages in your print job.
Visit the library within 72 hours and provide your email address at the Check-Out Desk where you can pay for and pick up your printouts!