Youth Anytime e-Resources
E-Source Targets
Niche Academy provides tutorials and online learning tools for the Library's Anytime E-Resources and other popular apps. This services is available to assist you 24/7.
Wisconsin's online library which provides access to licensed content such as magazines, newspapers, scholarly articles, encyclopedias and much more.
Designed to inform students, parents, and educators about how the Federal Government works.
Text and video tutorials on technology basics, living in the online world, essential skills, and work & career.
Funbrain offers hundreds of games, books, comics, and videos that develop skills in math, reading, problem-solving and literacy.
ERMPL card holders can download thousands of ebooks, music, and movies for free – from major Hollywood studios, record companies and publishers.
Various educational websites separated by topic.
A useful resource for those trying to participate in or run a science fair.
Employment resources for ages 11-19 including job search, interview tips, and resume assistance.
Practice tests and tutorial course series for students and adult learners.
Wisconsin's Digital Library offers digital audio books and ebooks for use with computers, MP3 players, and ebook readers.
We invite you and your family to participate in these activities, inspired by the collections, programs, and expertise of the Library of Congress.
Mathigon makes mathematics education more engaging and personal. Students ages 12 to 18 can explore and discover, rather than just memorize equations.
Our weekly vocabulary lists for kids ages 8-12 feature words frequently encountered in age-appropriate books and other texts. Learn eight new words each week with high-quality Merriam-Webster definitions and pronunciations.
For children ages five and up, this website includes many activities both on- and off-screen based around NASA and space.
Features educational games, videos, and other activities, centered mostly on animals and the natural world.
Providing students with free science tools, strategies, and media resources.
Book reviews, annotations, etc., for over 200,000 titles for K-8.
Educational games and videos from Curious George, Wild Kratts and other PBS KIDS shows!
Inspire students with thousands of free teaching resources including videos, lesson plans, and games aligned to state and national standards. Great for teachers and homeschooling parents.
A free and family friendly web site indexing and reviewing quality, credible, and current Internet reference resources.
An innovative block-based programming language that allows for the creation and remixing of limitless programming, from games to music to animation.
Provides historically significant information for each day of the year as well as a chronology of Wisconsin's history dating back to 1848.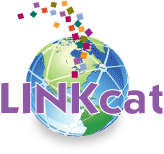 Download the LINKcat Mobile App to easily access our catalog and your account!