ERMPL Genealogy & Local History
Our library hosts a large genealogy, family and local history collection in our second floor Felker Family Foundation Genealogy & Local History Room. The library has informational material not only from Marshfield and surrounding communities, but also from communities, counties, and states across the United States with an emphasis on Wisconsin connections. Besides the standard and expected resources, we pride ourselves in collecting limited edition works. We have electronic or microfilm access to all historical and current Marshfield newspapers.
ERMPL accepts requests for obituary, birth, or marriage information via our electronic form. Information Desk staff will answer them as time permits. You may submit up to five requests at a time by using our online form at Make Marshfield Genealogy Requests.
We have a busy library, so staff are not able to provide in-depth research. However, we welcome you to visit our library to conduct research yourself. If in-depth research is required, we will gladly refer you to the Marshfield Area Genealogy Group at P.O. 337, Marshfield, WI 54449 or provide the names of individuals who are willing to do research for a fee.
This special library owned database represents over 30 years of work by many individuals. Volunteers representing the Marshfield Area Genealogy Group and Marshfield Public Library culled through microfilm newspapers for records of births, deaths and marriages. Their efforts were complemented by the work of GreenThumb/Experience Works/SCET/CET workers, Hilly Weimert, Sherri Bullock, and Tom Watson, as well as UW-Marshfield/Wood County work-study students. This online index covers over 430,000 events reported in Marshfield, Wisconsin newspapers, and while it does not provide full-text articles online, it does point you to the title, date, page and column number where you can locate the article on our microfilm.
2009-1881 Business Directory by Name then Year
2009-1881 Business Directory by Street Location NSEW Number then Year
2009-1881 Business Directory on Central
The Tiger is the yearbook for Marshfield High School and Marshfield Senior High. The digitized collection includes annuals from 1950 to 2019. Missing years include: 1967, 2005, 2013, and 2016.
Clio is an electronic bookshelf with more than 1,500 online digitized state and county history books. The collection contains digital scans of history books from Wisconsin and surrounding states such as Illinois, Iowa, Michigan and Minnesota. Also included are titles from Colorado, Georgia, Indiana, Kansas, Kentucky, Missouri, Ohio, Tennessee, Texas, Virginia, and Parish Registers of England. You may browse titles or search within all titles available.
Genealogy information, including census data, passenger lists, and more.
Discover your family's military past with this database that provides convenient access to US military records, including the stories, photos, and personal documents of the men and women who served.
Genealogy records and books, including census data, local histories, tax rolls, cemetery lists, and more.
More than 1.4 billion records spanning twenty-two countries covering the United States, the British Isles, continental Europe, and beyond, including one of the an extensive collection of early American genealogical records, a searchable collection of published genealogical research journals and magazines, and Boston's Catholic records. In Library use only. Trial ends August 2021.
Historical newspaper archive from the 1700's-2000's containing regional, state, and small local newspapers in the United States and other countries.
A database of historical Wisconsin newspapers in downloadable PDF format, including the Marshfield Daily News 1921-1927 and the Marshfield News-Herald from 1927-2009
Current and archival to 1980's U.S. news featuring key national and regional sources such as Gannett titles Marshfield News Herald with full text coverage Feb 1, 2003 to present, the Daily Tribune from Wisconsin Rapids, and more.
Provides historically significant information for each day of the year as well as a chronology of Wisconsin's history dating back to 1848.
Other Helpful Links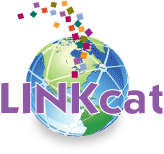 Download the LINKcat Mobile App to easily access our catalog and your account!